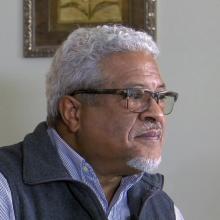 Robert King
Jefferson Elementary School, Venable Elementary School, Lane High School
Biography
Robert "Bobby" King is the youngest of three children educated in the Charlottesville public school system. His first experience with integration occurred when he was in 4th grade at the predominantly white Venable Elementary School in 1961. Life was not easy transitioning from all-black Jefferson Elementary to a school where one of his most vivid memories was being asked to sing "Old Black Joe" each morning. At the time, he did not understand the significance of the Negro spiritual, but he knew how marginalized he felt and the racist intent of his teacher. He persevered through those elementary school years knowing that his presence there marked a significant moment in history for African Americans in Charlottesville.
By the time he reached high school, Bobby had developed a passion for all sports. His interest was passion nurtured by regular pick-up games at Washington Park. "Everything was right there for me… I was really raised over there," he recalled. Basketball, baseball, and football were often played with friends at Charlottesville's Washington Park. There he acquired skills that served him well when he arrived at Lane High School. He admired the athletic department and coaching of Joe Bingler and Tommy Theodose. He was eager and proud to play football on the winning Lane High School Black Knights team. He developed a camaraderie with many team members, though he sometimes had issues with some of the white players who grew up in the Belmont neighborhood.
The glory days of playing football and learning how to co-exist in an integrated world positively influenced his drive for success in the business world. A career in the grocery industry taught him leadership and marketing and developed his business acumen. He approached life with a positive attitude and a love of learning. He later moved to Atlanta, Georgia, where he started his family. He discovered a newfound interest in history and civil rights and was inspired by the work and leadership of Dr. Martin Luther King, Jr. Bobby has nurtured his love of the history of African Americans. He spent several years working with the railroad and traveled extensively throughout the midwestern United States. Though retired now, his thirst for knowledge about the civil rights movement and its influence on the lives of Black people continues to intrigue and inspire him.